Day – Manasquan, NJ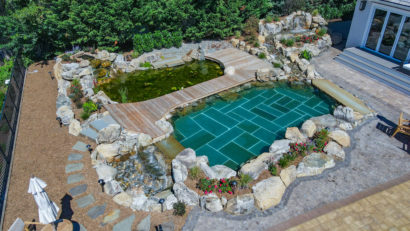 Aquatic Artists was hired to build two water features at this property on the Manasquan River in Manasquan, NJ. The first water feature we crafted is a fish pond with a large viewing area and fishing stones. Also, we crafted a waterfall that is 3 feet high that feeds into the fish pond.
The second water feature we crafted is a chlorinated recreational pond with sitting rocks and a negative edge. The recreational pond is bordered with large viewing and stepping stones and it has a flagstone floor. Also, the recreational pond is fed by a two-tier waterfall that is 3 feet high with a boulder wall on the back. This waterfall flows into a stream that flows over a waterfall into the recreational pond. At the end of the recreational pond, we crafted a negative edge skimming stream and waterfall that cascades into a basin to recirculate into the recreational pond.
In addition to the ponds, we crafted a cedar deck in between the two ponds that also extends in front of the fish pond. Also, we installed a flagstone walkway, stone steps, and a stone bridge. Lastly, we placed planting beds throughout these water features to enhance the overall natural look.