Aquatopia – Williamstown, NJ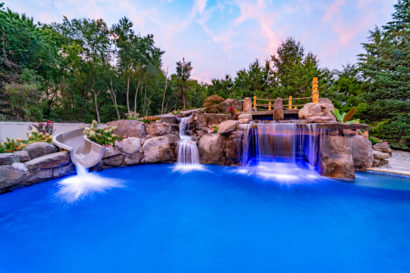 Aquatic Artists designed and built the ultimate backyard oasis with multiple water features that flow into this custom gunite pool in Williamstown, NJ. First, we crafted a custom waterfall grotto cave that is 8 feet wide and 16 feet deep and is made of all natural stone. The grotto cave is half wet and half dry. The dry portion of the grotto cave has a separate side entrance and sitting area inside with a natural rock floor. This is a great feature if you want to access the grotto and do not want to get wet. Also to enhance the rustic look of the cave, we incorporated three authentic red cedar logs inside the ceiling of the cave.
To the left of the grotto, we crafted a two-tiered 6 foot high waterfall that cascades into the pool and we installed a 40 foot custom pool slide manufactured by Dolphin Water Slides. Leading to the pool slide and the top of the grotto cave, we built natural stone steps that wrap around a 10 foot tall pillar rock that weighs five tons. The steps also have cedar posts and rope railings.
In addition, we created a spa waterfall that cascades into the pool. The spa has 3 large natural accent rocks that we notched around the gunite shell to integrate into the spa. Also, we installed a matching stone veneer on the face of the spa and bullnose travertine coping around the top of the spa. Lastly, we placed planting beds throughout these water features to naturalize the rock.