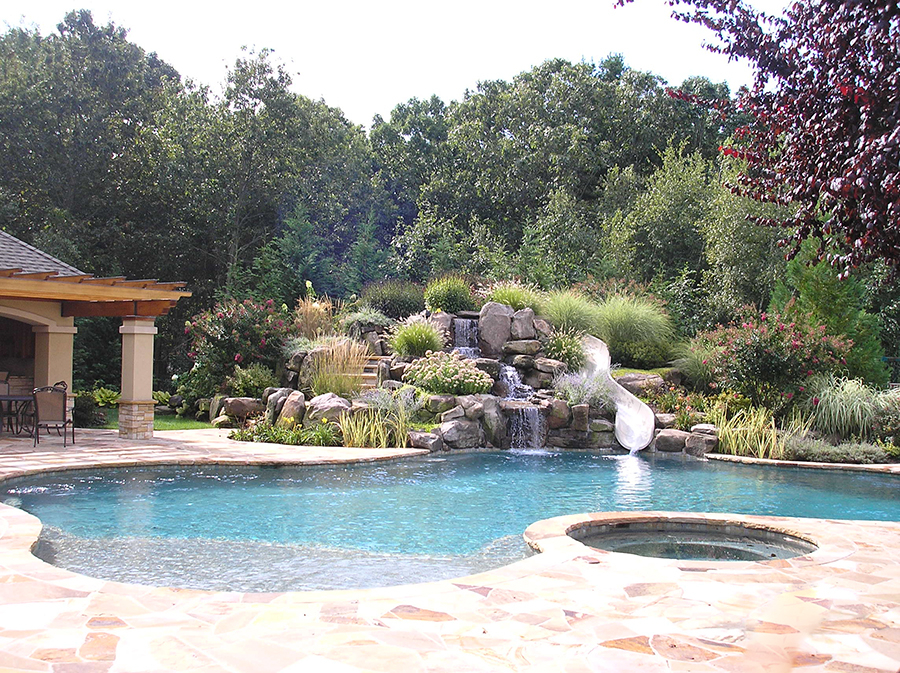 At Aquatic Artists, we're here to help you seal the deal on your pool and landscape design projects!
We design and build award winning natural stone waterfalls for pool builders, landscape professionals and their clients throughout the Northeast. While others can add a rock feature to your pool, we surpass your expectations as our SOLE business is designing and building natural stone waterfalls.
Why partner with us?
we have strong relationships with pool builders and landscape professionals, and our craftsmanship speaks for itself. But, don't take our word for it. Check out our Gallery! It proudly showcases many of our partnership projects.
whether working on a referral basis or as a subcontractor, we provide you and your clients effective communication and exceptional customer service.
our skilled craftsmen complete Waterfall University and create works of art that transform a standard pool project into an extraordinary pleasure oasis.
Choose Aquatic Artists and add value to your project proposal with an exceptional water feature!
Download Our Sales Brochure (PDF) >>>
View our Waterfall Packages (PDF) >>>
Need a persuasive, visual tool to increase the effectiveness of your sales calls? You can reference our Sales Brochure or call us today to obtain print copies. For convenience, we provide our commercial partners with three fixed-pricing projects as a baseline for gauging interest with potential customers, as well as providing quick turnaround on custom design, scope and cost estimates.
We're Your Water Feature Resource!
Considering adding a water feature to your pool or landscape project and need someone to discuss options, generate ideas and seal the deal with your potential customers? While our online gallery and print sales kits contain extensive examples, sometimes you need that personal touch to gain consensus on project concepts and details. Chuck is happy to be your "Waterfall Guy" and make the sales call with you. Contact Aquatic Artists today to schedule the appointment. Together, we'll provide your prospective customers the best options and win the work!