Katchikian – Manalapan, NJ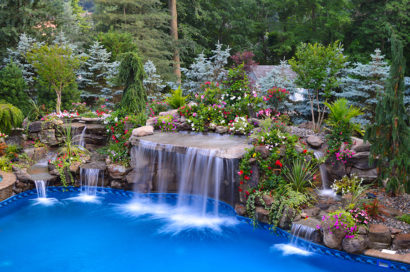 Aquatic Artists designed and built two natural water features at this home in Manalapan, NJ. First, we crafted an award-winning water feature with multiple natural stone waterfalls that cascade into this gunite pool. One of the waterfalls splits into two streams with both streams cascading into the pool. A large 5 feet high waterfall cascades over a pool grotto in the center of the water feature. To the right of the grotto, another waterfall flows on the side of the pool grotto into a stream that also cascades into the pool. We also placed planting beds throughout this water feature.
In addition, we built a second 4 feet high natural stone water feature that slopes down a hill on the backside of the house facing the pool. The second water feature, a multi-tiered natural pondless waterfall, includes a stream and planting beds.