Szczepkowski – Moorestown, NJ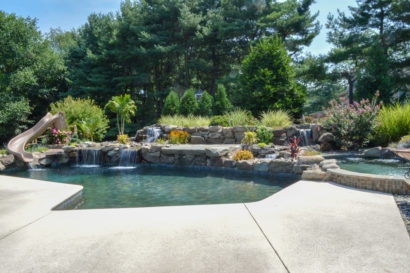 Aquatic Artists crafted two natural stone water features on this gunite pool in Moorestown, NJ. When the pool was first constructed, we created a large 5 feet high natural stone waterfall that cascades into the spa. A few years later, the owner hired us to create a second water feature. For the second water feature, we crafted a large waterfall on the left that splits into two streams and cascades into the pool. In the center of the water feature, we built a natural stone patio and, on the right side, we built a pondless waterfall. We also placed planting beds and accent rocks throughout the water feature and installed a natural stone bench to enhance the natural look.
In 2018, Aquatic Artists was hired once again to add an additional enhancement to the water features on this pool. The enhancement we added is a classic pool slide manufactured by SR Smith. Also during this phase, we placed additional accents rocks and included planting beds around the slide to complete the natural look of the entire project.